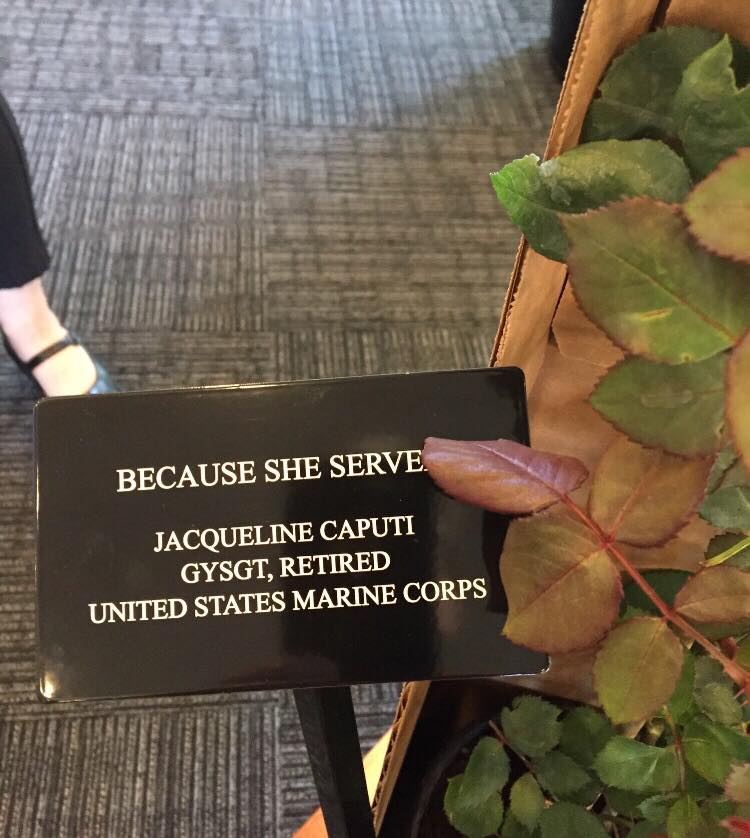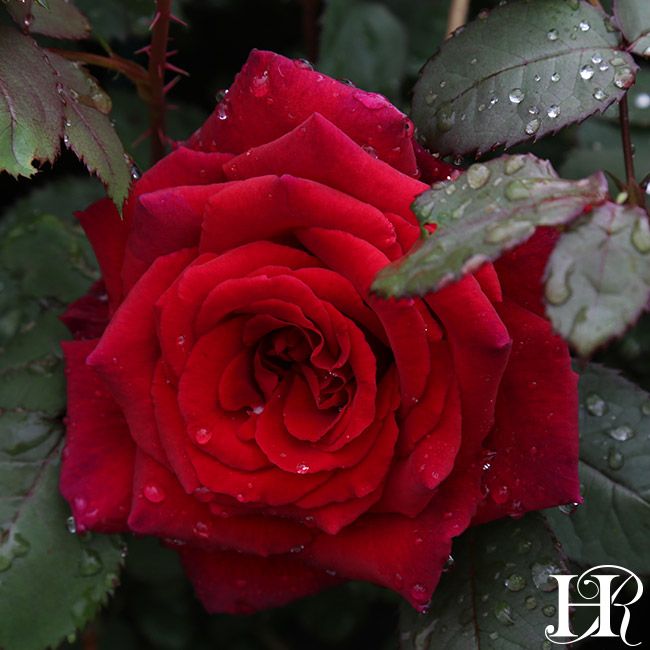 History of Our Two Roses
The Greater Oregon Chapter is credited with cultivating the official Women Marines Association flower to honor women in the Marine Corps.  A ten-year dream of chapter member Eva Rae Briscoe was to develop a special rose in Montezuma red representing the cap cord color on the female Marine garrison cover.   
In 1980, Lady Marine Rose began its journey in Portland, Oregon, known as The City of the Roses.  Northwest Rose Growers Association, located in Woodland, Washington, started growing the rose specifically for the WMA.  It was introduced at the Women Marines Associations 11th Biennial Convention in Seattle, Washington that same year.
When Mary Knapp, WMA National President, announced the adoption of the Lady Marine Rose as the official flower, The Greater Oregon Chapter changed their name to OR-1 Lady Marine Rose.  A National Rose Committee was established in 1982 and began placing orders with profits going towards the WMA scholarship program. 2,000 Lady Marine Roses were flourishing all over the United States and Japan along with special gardens such as Cypress Gardens in Florida, Rose Hill Memorial Garden Park in Whittier, California, International Rose Test Garden in Portland, Oregon, Willamette National Cemetery, Portland, Oregon and at the home of the Commandant of the Marine Corps, Washington D.C.
The Pacific Northwest experienced a severe winter in 1983-84, which brought a chill from Canada to the southern United States, in turn, devastating the rose species.  Roseway Nurseries, located in Woodland, Washington managed the Lady Marine Rose; in the aftermath of the winter, they lost the entire stock forcing them out of business.  Additional losses from numerous hurricanes caused Cypress Gardens to close leaving the Botanical Garden portion preserved inside the newly formed Legoland, Florida. Other rose locations seemed to have suffered the same fate.  Many women Marines tried in vain to graph from a living Lady Marine Rose but results only produced a yellow rose.
The legacy of a Women Marine Rose was thought to be gone forever.  OR-1 was persistent in locating their beloved rose and in 2018 Chapter President Jacqueline Caputi found the rose still blooming at Willamette National Cemetery. In honor of the 100th Anniversary of Women serving in the Marine Corps in partnership with Heirloom Roses, in St. Paul, Oregon OR-1 introduced a Hybrid Tea Rose which stands proudly in the garden and exemplifies the honor, courage, and commitment of valiant women who have served our nation for generations.
At the 75th Anniversary Luncheon, chapter members installed new officers and voted on a name.  Top contenders were Warrior Rose, Semper Rose, and Because She Served. Almost unanimous Because She Served was chosen.  Because She Served has vigor and large 4 ½ inch blooms displaying unwavering fearless fragrance, and a sense of selflessness through many scarlet petals.  It ships out in one-gallon buckets at a one-year-old and matures at three years to stand 4 feet tall, 3 feet wide. The flower is disease resistant and proves to be stronger than Lady Marine Rose making it the perfect tribute to our nations finest women.
OR-1 Lady Marine Rose has continuously increased their community involvement from WWII to present-day. Like their rose, they are strong, resilient, and dedicated to those who serve.
To purchase: http://www.heirloomroses.com "Because She Served" or call 800-820-0465
PLEASE NOTE: Name, Rank, Years of Service, and Military Affiliation available on Tribute Ground Stake only. These options are not available on the standard plant tag, commemorative tag, or standard ground stake. Text will engraved as inputted directly in the fields supplied. All text will be engraved in all caps.